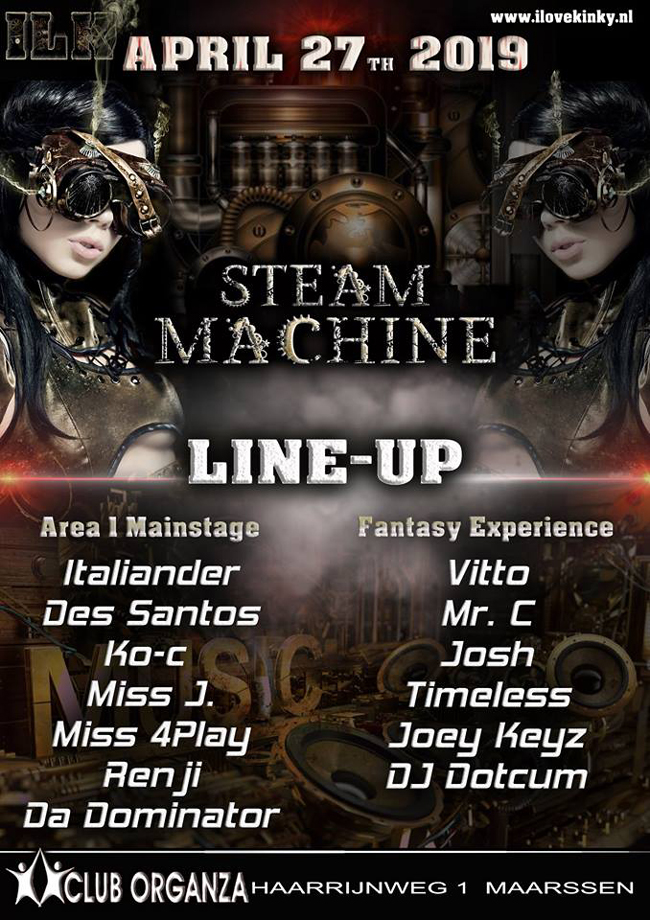 I LOVE KINKY "STEAMMACHINE"
"We all have our time machines. Some take us back, they are memories. Some take us forward, the're called dreams" - Jeremy Irons
Herinneringen hebben we gemaakt, al 14 edities en 4 jaar lang! Dromen blijven we houden, zoals deze spectaculaire 15e editie in Steampunk stijl, op zaterdag 27 april 2019!
Dit wordt weer een stomende editie vol pompende beats van onze dj's en zinderende shows van onze entertainers. Dansen tot in de morgen of heerlijk spelen in de speelruimtes of op de speciaal voor I Love Kinky geopende BDSM zolder, alles is mogelijk.
Waan je in de industriële en futuristische fantasy wereld van stoom- en tijdmachines.
Alle voorgaande edities van I Love Kinky waren vollédig uitverkocht, dus schaf je tickets op tijd aan als je er ook deze editie weer bij wilt zijn!
"STEAMMACHINE" IN CLUB ORGANZA
Speciaal voor I Love Kinky zijn er in Organza twee verschillende dancearea's ingericht. In de main area staan een danskooi en een danspaal en is er een verhoogde dansvloer met spiegelwand. In de 2e dance area, tevens rookruimte, zijn diverse lounge zitjes aanwezig.
Club Organza is van alle gemakken voorzien: lockers, luxe, ruime en speciaal voor ILK discreet ingerichte speelruimtes, een compleet ingerichte BDSM ruimte en douches. Bij Organza wordt gewerkt met een Paycard systeem, dus geen gedoe met muntjes. Het tegoed wat je op je kaart zet blijft op je kaart staan t/m 2 jaar na je laatste bezoek aan Organza!
Parkeren bij club Organza is gratis.
Rijden onder invloed is een persoonlijke keuze, hier kunnen zowel club Organza als I Love Kinky niet verantwoordelijk voor worden gehouden! Zorg dat er altijd iemand de BOB is en rij veilig!
DRESSCODE
Strikte fetish/kinky dresscode: Lak, (imitatie-)leer, latex, metal, rubber, neopreen, pvc, bodypaint, bondage, bodytaping. Géén jeans, géén sportschoenen, stoffen kleding wordt ábsoluut geweigerd, no refund! De beslissing van de doorbitch is definitief!
TICKETS EN INFO
De wensen van onze bezoekers zijn voor ons de belangrijkste leidraad. Betrouwbaarheid, respect, tolerantie en discretie zijn onze belangrijkste steekwoorden. Mensen van alle seksuele geaardheden zijn bij ons uiteraard welkom, 100% LGBT friendly. Alleenstaande mannen kunnen worden geweigerd. Voor meer informatie kun je contact opnemen met de organisatie van I Love Kinky: infodesk@ilovekinky.nl
De earlybird tickets zijn vrijwel altijd binnen een week uitverkocht, dus wees op tijd!
More info: