NLLeather Clearance SALE

This is your LAST CHANCE to get these high quality NLLeather BDSM products! Once they're sold out, they will not become available again so be sure to take advantage of this massive NLLeather Clearance SALE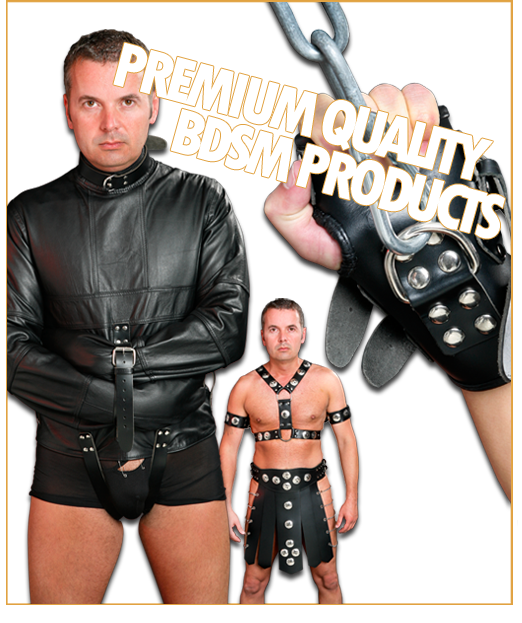 NLleather
A new exciting brand in the world of BDSM.
Our philosophy is creating handmade top quality leather products for fair prices. Sustainable, ergonomic, comfortable, but most of all: safe.
NLleather products are made in the Netherlands and will have a superb finishing. All our leather products are lined with real leather, therefore the nickel and metal parts cannot touch the skin. Plastic and rubber are materials we do not use. The only perfect and safe material we use in our products is medical silicone. Next to this a premium quality stainless steel also have an important part within our BDSM collection. So does testing. All our products have been tested and often redesigned before they finally where added to our collection.
After 12 years of experience in the BDSM world, NLleather started in 2 2008 with the developing of their range of BDSM products.
One of the reasons to do so was the disappointing quality of Chinese and Pakistani products. Several European and American companies had started to make a lower quality in order to keep up with the prices of the competition. Good quality was hard to find, and if so, hard to get. NLleather thinks that quality will always triumph in the end. We also know that those who are really into BDSM will appreciate this thought. Specially if they find out that quality does not have to be expensive!
All these BDSM products are made of the finest cow leather. Most of it imported from Argentina, where the cows walk around free in an open green grassland without barbed wire. This guarantees a flexible and undamaged top quality leather, that feels and smells great. Excellent material to work with, one of the reasons our experienced Dutch hand craft professionals can turn a piece of leather into a piece of art.
NLleather is not only improving existing products, but also designing and producing new BDSM products and fetish clothing. At this moment NLleather has around 90 different products within their collection. All items are in stock.
The beautifull collection of NLLeather consists of:
Bondage, beautifull Padded Cuffs, Professional Suspension Cuffs for hands and feet, Medical Bondage - Padded Hospital hand and Ancle Cuffs, Hospital Leather straitjacket.
Heavy Bondage masks, the famous Sensory Deprivation Leather Hood
Special collars as Corset collars, Neck Corsets, leather collar with stainless steel, even with a Pin to keep your head straight up, Slave Collar 'O'
Whips with stainless steel handles in hard & soft leather, Paddles, Riding crops, Danish Design unbreakable Leather Canes.
Bodybags, straitjacket, Singleglove, all double lined leather
C & B Toys - Cone Parachute, The Humbler in leather, lockable Leather chastity belts
Gags, with 100% silicone ball, dildo or bit, all lockable with padlock.
Comfortable leather Lined blindfolds.
Leather Strap-on with silicone dildo.
Partywear for men, Gladiator outfit and for women beautifull Design leather Skirts & Tops.
but also many toys for extreme bondage, Pony Head harness, catnails and much more
NL Leather Products from Holland
(Nl-BBB)

Advised price

Mince price € 717,00

In stock, immediately available
(NL-SJB1)

Advised price

Mince price € 359,40

In stock, immediately available
(nl-bshmed)

Advised price

Mince price € 49,50

In stock, immediately available
(NL-LTW1)

Advised price

Mince price € 39,75

In stock, immediately available
(NL-LSW1)

Advised price

Mince price € 34,75

In stock, immediately available
(NL-B61)

Advised price

Mince price € 63,80

In stock, immediately available
(NL-B62)

Advised price

Mince price € 55,60

In stock, immediately available
(NL-WPRL)

Advised price

Mince price € 64,50

In stock, immediately available
(NL-W100-60RH)

Advised price

Mince price € 97,46

In stock, immediately available
(Nl-WPRS)

Advised price

Mince price € 32,95

In stock, immediately available
(NL-W38-24-WHT)

Advised price

Mince price € 19,50

In stock, immediately available
(NL-W65-36-WHT)

Advised price

Mince price € 47,50

In stock, immediately available